HIOPOS has a point of sale aimed at: classic restaurants, fast-food, pizzerias, food-trucks… covering the needs of each type of establishment. HIOPOS can be installed in various hardware formats, from a mobile phone, a tablet or even a classic point of sale, supporting cable, Wi-Fi and Bluetooth printers, thus achieving great adaptability to different types of businesses.
We are in the internet age, and HIOPOS is a cloud solution. However, communications can fail, and although that can happen, HIOPOS will not stop working, even without internet, since it has an offline work system that guarantees that your establishment's cashier will continue to work.
Fast food establishments are a fundamental part of current consumption habits. With the HIOPOS solutions, both for a single establishment and for managing large chains, the needs of these businesses are covered, providing robustness, reliability, usability and a simple and fast technological deployment.
Increase the sales capacity in the establishments, using the functionalities of menus, and suggested sales, as well as rates for time ranges and others more aimed at increasing the sales conversion ratio in the premises.
Online sale
No one is unaware that today a fundamental part of any business is online sales. But at the same time, the economic effort in technology represents a great barrier for businesses, in addition to the resources that must be dedicated to the design, development and creation of an online platform that integrates with the different actors involved, such as delivery companies.
With HIOPOS, all these barriers fall quickly and easily, since locating an establishment in the network so that it can start selling online is simple, fast and economical.
In addition, with the generation of automated QR codes, the online sales platform can be given maximum diffusion, and thus reach new customers, in addition to retaining existing ones.

Forget paper in the kitchen with HIOSCREEN
HIOPOS is scalable, and one of its complementary solutions is HIOSCREEN, which replaces the classic paper print order in the kitchen. The orders that are made either from the point of sale or from a mobile terminal, are displayed in HIOSCREEN in a very intuitive way, also informing of the preparation status of each of the dishes.
HIOSCREEN can be used both in the living room and in the kitchen, adapting its operation depending on its location.
From the kitchen, they indicate that the dish is ready, and in the dining room it automatically appears indicating that it can now be served. In this way, we save time and streamline communication between the kitchen and the dining room, saving time and increasing the profitability of the establishment.
Analyze the information in real time with HIOPOS Analytics
HIOPOS Analytics is an essential tool to follow the evolution of your business in real time. Access from any device regardless of its operating system: Windows, Linux, IOS or Android, to consult the dashboards that include KPIs with the main statistics in the form of data and graphs, which allow you to analyze the evolution of the business.
Make more agile and strategic decisions thanks to the information you receive in real time about your businesses, whether it is one or several. Filter the information using its powerful filters and explore your data from a new perspective.
Use our kiosks
Use our kiosks and explore the model that best suits your needs. You can use our kiosks as one more point of sale in your establishment, or as a point of information about your products and characteristics.
By placing a kiosk with point of sale functionality in the establishment, a customer can place an order without queuing at the checkout.
Mobility in the restaurant with HIORDER
Earn time serving your customers. Take orders directly at the table or on the terrace with HIORDER. In this way you reduce waiting times by combining HIORDER with kitchen printing or HIOSCREEN.
In addition, in this way you ensure that absolutely everything is invoiced, since you reduce the risk of forgetting to write down any product at the minute.
In the kitchen, or at the bar, the products or dishes to be prepared are received immediately, without the need to travel, thus saving a great deal of time, being able to serve the next customer immediately.
With HIORDER you can totalize and collect an order without having to go to the checkout.
With HIORDER save time and increase the profitability and turnover of your establishment, while substantially improving the customer experience by reducing waiting time.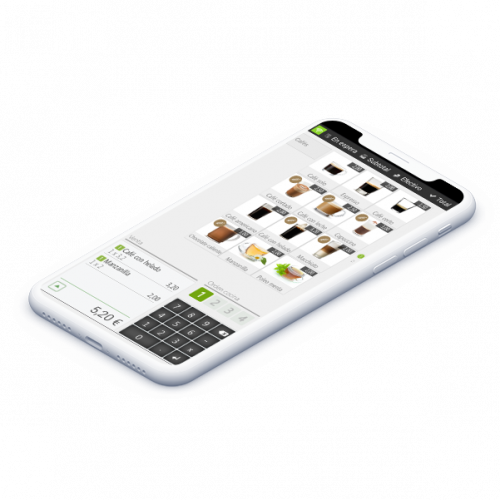 OTHER SECTORS
HIOPOS has a large number of functionalities and verticals. What makes it work perfectly between:
.- Ice cream parlors
.- Creperies
.- Coffee shops
.- Pizzerías
.- Food-trucks
.- Bakeries
.- Cocktail bars
.- Stalls or markets
.- Nightclubs
.- Pubs…
Centralize your establishments
HIOFFICE is the HIOPOS ERP that will allow you to centralize all your establishments remotely regardless of where your premises are located.
Create rates, promotions, items, families, vendors… centrally without going to each establishment. In the same way, centralize the purchases of all your points of sale. Discover the power and mobility of HIOFFICE without the need to install any software or maintain any infrastructure.
SOME FUNCTIONALITIES